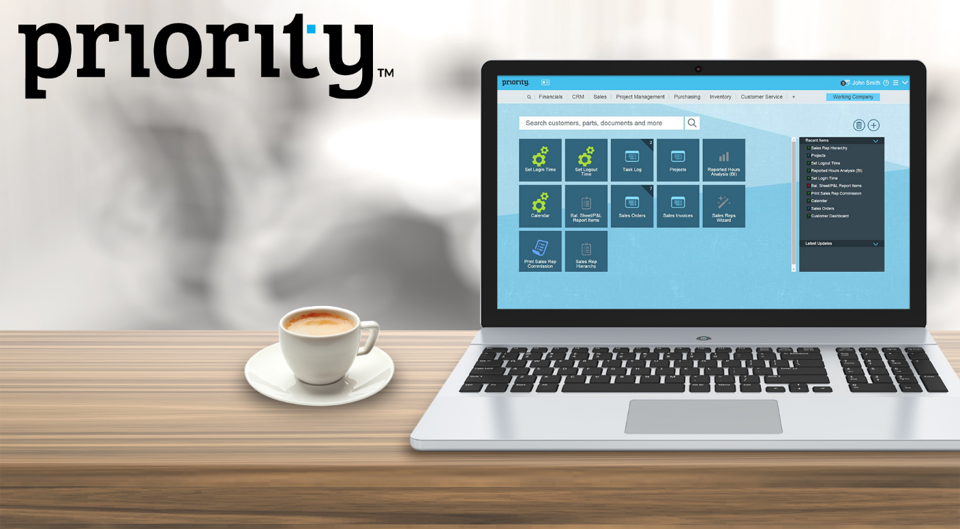 Priority Software are pioneers in the global ERP solutions market, empowering companies and organizations of all sizes, by providing the most comprehensive, flexible and affordable ERP solutions on the market today. Founded in 1986, with the mission of making ERP easier, Priority offers a more accessible alternative to complex and costly solutions to increase profitability and efficiency. Over 8,000 companies across a wide range of industries in 40 countries have come to rely on Priority to manage and grow their business. Backed by cutting-edge technologies and a skilled and talented team of professionals, Priority is supported by a strong network of business partners around the globe.
Priority offers tailored systems that meet the requirements of its core vertical markets, including manufacturing, professional services, customer service, retail (including a built-in PoS, the critical link between front- and back-office), healthcare, construction, automotive, agriculture and more. Priority provides logistics companies with fully-integrated supply chain management to optimize logistics networks, manage transportation and warehousing operations, and provide other value-added services to their customers.
The system's functionality covers all the fundamental elements of traditional ERP with primary modules, including finance, manufacturing, logistics, human resources, time and attendance, business intelligence, project management and customer relationship management (CRM). Priority is offered both as on premise and cloud solutions, both of which deliver 100% system functionality, enabling users to access their data in real-time from mobile devices and tablets. To date, 1,500 customers successfully use Priority ERP Solutions in the cloud.
Ideal for growing organizations, Priority ERP Solutions enables expansion from a few to several thousand users and is designed to help users configure the system to meet their organization's needs via a range of customization tools. With multiple languages, currencies and built-in support for multiple tax jurisdictions, Priority delivers rich user-level personalization with easy to configure screens and options.
Visit www.priority-software.com.
As of January 2018, Priority has extended its ERP software services to small business owners, with the acquisition of US-based software developer, Acclivity, provider of the popular AccountEdge, small business accounting solution for the Mac and Windows desktop, as well as developers of Checkout POS and Rerun software. The two companies' collective offering is now deployed by over 75,000 customers worldwide.
---
More than 8,700 companies and a global community of over 300,000 users enjoy the benefits of Priority. Here's why:
Comprehensive
A single integrated software for business owners with no interface required. Priority delivers dedicated, focused solutions for commercial and manufacturing customers across a wide range of industries.
Superior Technology
The only ERP solution that does not require intensive, ongoing maintenance efforts
Available as a cloud-based (SaaS) or on-premise installation
Mobile-friendly interface with fast, easy access from any mobile device or tablet, anywhere – any time
Maturity
Backed by 30 years of experience and expertise, Priority has earned its reputation as the ERP solution of choice.
Flexibility
Flexible, scalable, multi-language and multi-currency management solution
Unique customization and rationalization options
Intuitive user interface supported by responsive Help tools make learning quick and easy
Short Implementation Period
Priority's notably quick implementation and deployment give you the freedom and peace of mind to focus on your company's innovation and growth.
Lowest TCO
Priority's flexibility combined with an innovative commercial and operational model offer the most cost-effective ERP solution on the market today, with TCO up to 70% lower than comparable ERP systems. As a result, Priority customers benefit from on-time/on-budget projects, minimizing risks and costs.