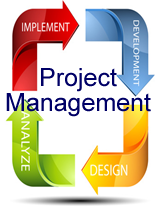 We can manage your project through Information Technology planning and implementation processes for you. Our C.E.O. is experienced in managing projects and has managed projects for clients such as:
The Housing Development Corporation
The Port Authority of Trinidad & Tobago
Ferreira Optical
Typically all organizations perform operations that are key to their existence. The execution of these normal everyday activities tends to utilize most of the organization's resources. For many organizations, projects are a means of responding to requests that cannot be addressed within the organization's normal operational limits.